Jump in and get muddy. Give back and get set. Scouts ignore the butterflies and go for it, and soon so will you.
Scouts are a go-getting group of young people aged
10 ½ to 14 who:
Master new skills and try new things
Make new friends
Have fun and go on adventures, at home and abroad
Explore the world around them
Help others and make a difference, in their own communities and beyond
Week in and week out, they gather in groups called Scout Troops to conquer the small task of changing the world.
Inverurie Merlins have been around since in some form since 1906 and we are more popular than ever! In 2017 we split in two as were too popular. Now Osprey Scouts meet Mondays 7:30-9:15pm and Merlin Scouts meet on a Friday night 7:00-9:00pm. We have joint events a couple of times a term and always go camping together.

Osprey's: Monday 7:30 – 9:15pm
Merlin's: Friday's 7:00 – 9:00pm
What do we get up to?
Scouts aims to build and develop young people's confidence, sense of adventure and outdoor skills, as well as encouraging them to explore their beliefs and attitudes and be creative. It offers them the independence to put these skills into practice at camps and even on international trips. Scouts are encouraged to work together and take the lead on all sorts of projects, from community based work to planning games and activities for their meetings.
The Scout Troop is the third section in the Scout Group, above Beavers and Cubs. The Scout Section is for young people aged between 10½ and 14 years. There is flexibility in the age range: young people can join from age 10, and can move to Explorers between age 13½ and 14½.
Top awards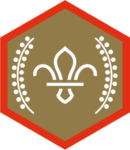 Scouts work towards their Chief Scout Gold award by completing 9 challenge badges and 6 activity or staged awards. Within our programme we will cover most of the challenge badge requirements, however Scouts wishing to gain the Chief Scout Gold will need to complete some work in their own time. Staged and Activity badges are started within the programme and normally finished in the Scouts own time.
We do a lot – check out it out!